May Change Summit - Change Leadership... Improv Your Way to Success!
May Change Summit - Change Leadership... Improv Your Way to Success!
Thursday, May 19, 2022 (4:00 PM - 6:00 PM) (CDT)
Description
I know what you're thinking . . . I've heard about those improv comedy shows but I'm not a comedian and have no desire to perform on stage. So why would I go to a session to learn about improv techniques?
Well, here's a little secret . . . improv comedy performers aren't born with the skills needed to succeed in unscripted situations that demand innovative responses on the fly. They learn and practice techniques that make them appear naturally spontaneous and engaging. The good news is that with practice many of those same improv techniques can also be employed in the business world to improve performance and enable change.
Join us to learn how to enhance communications, collaboration, creativity, and confidence in your change leadership. Come on, have some fun and improv your way to success!
What you'll take away:
How to enhance communication


How to enhance collaboration


How to enhance creativity


How to enhance your confidence as a change leader
Agenda:
4:00 – 4:30 p.m. – Registration | Networking
4:30 – 5:30 p.m. – Summit Event
5:30 – 6:00 p.m. – Networking and Discussion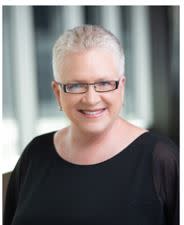 Kris Keller is a recovering attorney whose mother is still confused as to why she is not the courtroom litigator we see on television. She has a passion for helping organizations optimize performance by successfully navigating and embracing change associated with transformation and improvement. Over her career she has deployments, operations, customer experience, mergers and acquisitions, and process improvement initiatives.
During a corporate sabbatical, Kris studied and performed both improv and standup comedy. She enjoys merging her love of comedy with her love of business, speaking, and conducting workshops to help others improve their effectiveness in the business arena using the very same techniques that comedy performers use on stage to make them more effective performers, collaborators, and innovators . . . not to mention being more fun to be around.
Kris holds a bachelor's degree in international business from Hamline University and a Juris Doctor degree from Mitchell Hamline School of Law. She is a certified Prosci and Destra Change Leadership practitioner and Lean leader, currently focused on transformation and continuous improvement initiatives at CHS Inc supporting the farmers and producers that feed our world.
Pricing
FREE for members
$20 for guests
Horizontal HQ
1660 Highway 100 South Suite 200



St. Louis Park

,

MN

55416

United States



Thursday, May 19, 2022 (4:00 PM - 6:00 PM) (CDT)